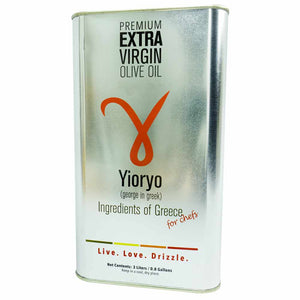 Premium Extra Virgin Olive Oil, Koroneiki
We really went back to our roots on this one, as Koroneiki olive trees have been growing in Greece for over 3,000 years. Not only is Greece one of the top producers in the world, they also consume about twice as much olive oil per capita than any other country. The Koroneiki olive has received more awards than any other Greek export so we knew we had found the best. We purchase our olives directly from the source, farmers, which ensures an unadultered, higher quality product.
With a stunning greenish gold hue, our Premium Extra Virgin Olive Oil exudes a subtle aroma of fresh greens. However, the scent does not truly expose the grassy and robust flavor of this oil. Left unblended and unfiltered, the Koroneiki olive shines, offering a delightful peppery sensation. Perfect for those who prefer a pungent, full bodied oil. We take pride in creating the purest olive oil from the finest ingredients that nature provides, giving you a true taste of Greece every time.
Yioryo olive oils are especially high in polyphenols (antioxidants) and vitamins. Olive oil is also full of health promoting nutrients that can positively affect many ailments. So use our Koroneiki Premium Extra Virgin Olive Oil like the Greeks do—generously!
Olive: Koroneiki
Source: Greece
Ranch: family and friends
Pressing: by dawn
Filtering: none
Available in 3 liter tins for food service use!